Plusnet named as Best Internet Service Provider
Article posted by mauriceb on Thursday, 27-Sep-2007 14:53 PM
Following on from PlusNet's uSwitch triumph in the summer, we're pleased to report that PlusNet have taken another crown. This time they've taken on the accolade of "Best Internet Service Provider" at the 2007 CustomPC awards.
The last couple of years have seen PlusNet go through some fairly rough times as service levels took a dive and upgrades to Max and LLU went a bit, err, wrong! However, as planned by PlusNet at the beginning of the year (Plans for 2007), they're following through on their promise to invest and improve and have come on leaps and bounds with regards to both quality broadband connectivity and customer support.
Earlier we spoke to
Neil Armstrong, Products Director at PlusNet
and he had this to say :-
"We're really chuffed to receive the Custom PC award. It's a fantastic trophy that's been added to the cabinet in the Customer Support Centre and we're pleased that Custom PC readers are delighted with the service they receive from us. This award shows that PlusNet is regaining our old ground of being a reliable and good value broadband service for people who take their broadband seriously."
CustomPC magazine is widely known for its appeal to more discerning (or 'savvy') users of technology and gamers. PlusNet's launch last week of Broadband Your Way Pro is targeted specifically at the Gaming Community - so many readers of CustomPC may now be even happier!
The PlusNet UserGroup are also delighted that PlusNet are making massive progress. Awards like this demonstrate the hard work that PlusNet are putting in across the board. We are calling for similar improvements to the Hosting, Email and VoIP segments of PlusNet's offering as the next stop!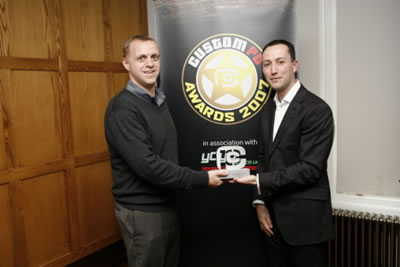 Article last edited on Monday, 21-Jan-2008 20:59 PM